President Donald Trump, a one-time football team owner, is ratcheting up his rhetoric against professional sports and some of their stars — and at least one league and some athletes are giving it back to him.
Hours after profanely criticizing NFL players who protest police brutality by kneeling during the national anthem, Trump took to Twitter on Saturday to disinvite National Basketball Association star Stephen Curry from a White House appearance traditional for championship sports teams. His winning team, the Golden State Warriors, said it won't visit Trump. On Sunday, he suggested a boycott of NFL games.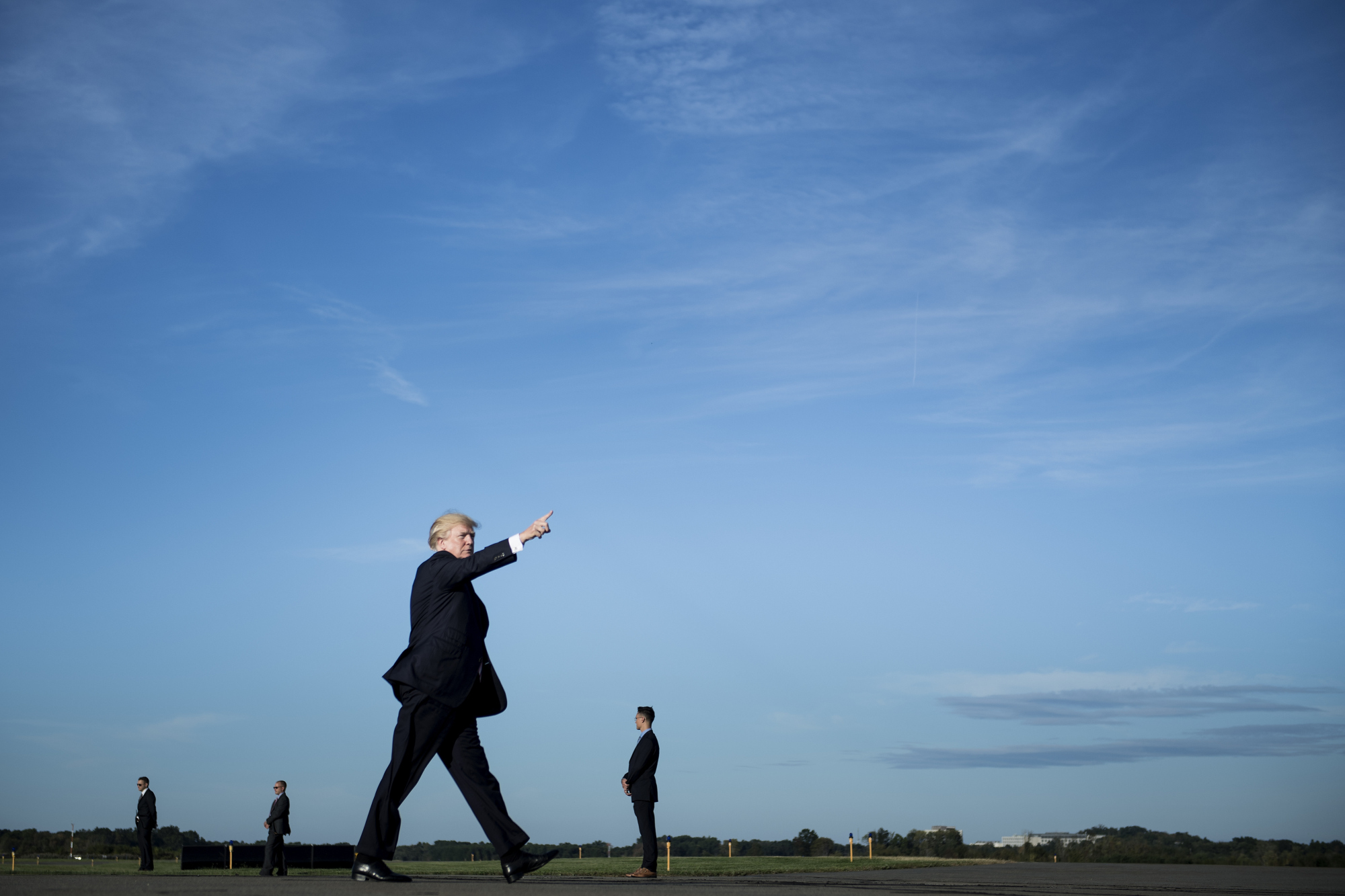 Hours later, Trump doubled down on his previous night's criticism of NFL players who protest — even after being rebuked by the league's commissioner. "If a player wants the privilege of making millions of dollars in the NFL or other leagues, he or she should not be allowed to disrespect our Great American Flag (or Country) and should stand for the National Anthem," he wrote on Twitter. "If not, YOU'RE FIRED. Find something else to do!"
By Sunday, the president suggested in a tweet that spectators act. "If NFL fans refuse to go to games until players stop disrespecting our Flag & Country, you will see change take place fast. Fire or suspend!"
Trump's tweets at Curry, the two-time NBA most valuable player, followed the president's remarks at a rally in Alabama Friday night, in which he said that owners of football teams whose players kneel should tell their coaches: "Get that son of a bitch off the field right now, he's fired. He's fired!"
Called Bum
The criticisms, directed primarily at black athletes, came after Trump fanned racial flames in August by repeatedly equating the actions of both sides after the death of a woman who was protesting against a demonstration by neo-Nazis, white supremacists and Confederate heritage groups in Charlottesville, Virginia.
The football players' protests are "a total disrespect of our heritage," Trump said. "That's a total disrespect for everything we stand for. We respect our flag."
Among the athletes denouncing Trump on Saturday was NBA star LeBron James of the Cleveland Cavaliers, who called the president a "bum" on @KingJames, his verified Twitter account. "@StephenCurry30 already said he aint going! So therefore ain't no invite. Going to the White House was a great honor until you showed up!" James tweeted.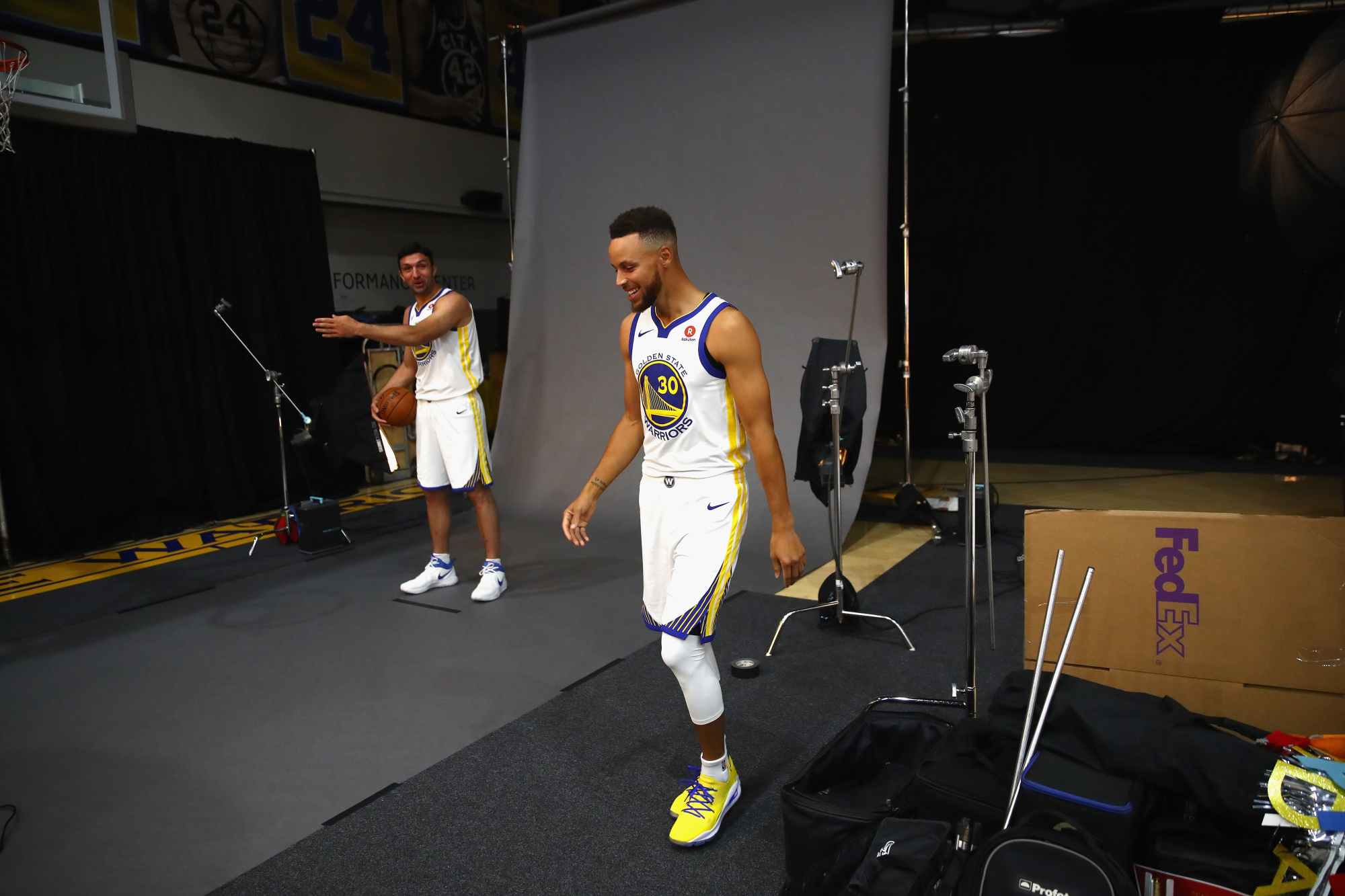 Curry had said earlier this week that to protest Trump's policies, he didn't want to make the White House visit, and didn't think his NBA-winning Warriors teammates should go either.
The Oakland, California, based team responded in a statement on Saturday that it won't visit the White House when it comes to the nation's capital to take on the Washington Wizards, after Trump "made it clear we are not invited."
"In lieu of a visit to the White House, we have decided that we'll constructively use our trip to the nation's capital in February to celebrate equality, diversity and inclusion — the values that we embrace as an organization," the Warriors said in the statement.
'Lack of Respect'
NFL Commissioner Roger Goodell, without mentioning Trump, said Saturday that "divisive comments" weren't helpful.
"The NFL and our players are at our best when we help create a sense of unity in our country and our culture," Goodell said in a statement. "Divisive comments like these demonstrate an unfortunate lack of respect for the NFL, our great game, and all of our players."
On Twitter Saturday, the hashtag #TakeAKnee was trending.
Trump himself was once owner of the New Jersey Generals of the long-defunct United States Football League, which fought a losing battle against the NFL.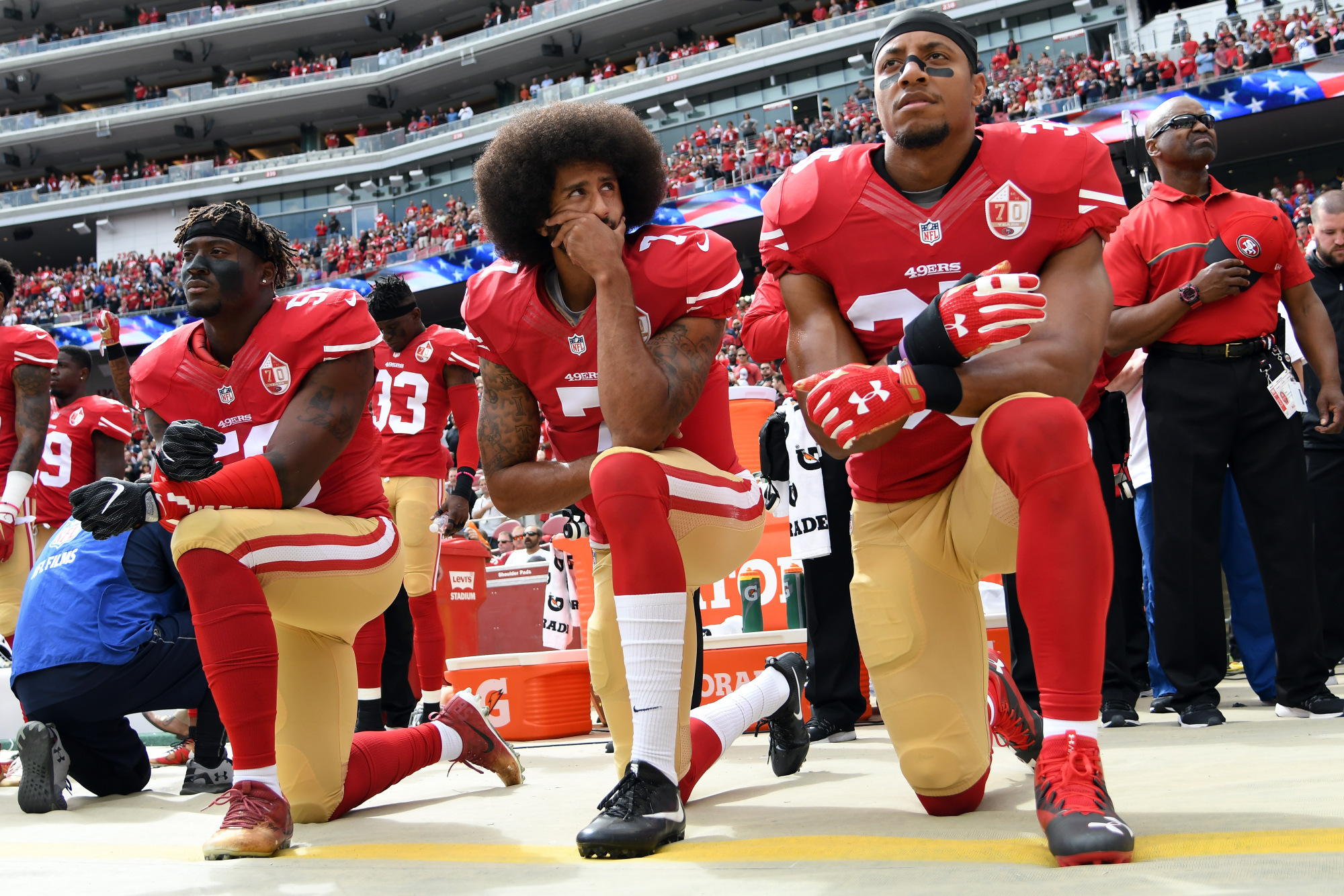 The national anthem protests began in August 2016, when former San Francisco 49ers quarterback Colin Kaepernick kneeled before a pre-season game. Kaepernick was joined in his protest by some teammates and players on other teams as the season progressed.
Kaepernick opted out of his contract with the 49ers in March and hasn't been signed by another team, although the protests have continued this season.
'Little Ding'
The president also raised eyebrows Friday by saying that penalties for hard hits in the NFL are "ruining the game," as the league attempts to respond to evidence of long-term injury to some of its players.
Trump's comment came a day after news that Aaron Hernandez, the former New England Patriots player convicted of murder who hanged himself in a Massachusetts jail in April at age 27, had been found to suffer from a severe case of the degenerative brain disease chronic traumatic encephalopathy (CTE) associated with repeated concussions.
Trump made similar comments about the NFL at least twice in 2016, deriding concussions as "a little ding on the head" and lamenting the demise of "violent, head-on" tackles.
A recent study published in the New England Journal of Medicine found that all but one of 111 former NFL players whose brains had been inspected had evidence of CTE, which can only be diagnosed post-mortem.
More From this publisher : HERE
If you like our content help us with a share… or two …  
Also -  I have some free stuff for you .......
Nr 1. In This FREE Report you can Discover:
Secrets to acquiring the freshest, hottest leads via YouTube In-Stream ads quickly and easily! Best secret tips for the most effective targeting for your ads! Totally legal, but little-known method for literally stealing traffic from your competitors! Get more traffic to your videos and landing pages without spending a fortune! And much more - all within this special FREE report!
Nr 2. Did you know you can Absolutely EXPLODE YOUR EMAIL LIST FOR FREE with UNTOUCHED offline sources?
Nr 3. The #1 secret to becoming an affiliate superstar - Earn your first $100 online – without a dime to invest.
If you're still looking to "make it online – I have just the thing for you. It's a video series that shows how to make your first $100 online – even if you don't have a dime to invest. Yes – nothing.  Free.  Nada. Is this possible? You bet. It's the most powerful system used by those "in the know". Good things don't have to be difficult. And they don't only come to those who wait. Have A Look
Nr 4. Top 10 Email Marketing Mistakes. Which of these mistakes do you make?
Nr 5.  You can learn about : The hottest social networking site that will send an unlimited stampede of traffic to your site - for FREE! How to quickly locate a swarm of hungry buyers using "information portals"! The fast and easy way to use simple images to siphon targeted traffic, on command! Learn how to get the most possible traffic from Instagram, and make sure that traffic converts! And much more ...
Nr 6. It's no secret… Facebook is an incredible place to get tons of free, viral traffic. But… most people are going about it all wrong.  How many of these mistakes are you making? Download the free report to find out.
Nr 7.  Special free report .  It's called "Operation Midas Touch" and you can download it here...
The report features a surefire method for generating at least $1000 per week online,without a website or product of your own!
Nr 8.  Instagram is still one of the hottest ways to get a LOT of traffic fast. All by sharing images. Sounds easy enough, yeah? Well, yes and no. If you want to really start driving a lot of  traffic and making sales using Instagram then you should download this report.
Nr 9.  When it comes to creating a product online there are so many ways to approach it. Wouldn't it be great to just get the meat of it all so you can get started faster? Well, the good news is, today you can download a guide called the Product Creation Formula Quickstart Guide. It's as the title suggests - a Quickstart guide. You'll get a list of action steps to take right away. Download your copy today !
Nr 10. Would you like to finally USE all of that dusty PLR you have sitting around on your harddrive? Or maybe find the resources for the best PLR available - at the best prices? What about how to use that PLR to make you money with just a few minutes of work. Well, you're not going to want to miss this!
  Nr 11. Buzzfeed's top post has more than 21 million views. Think about that for a sec… ONE of their articles has had over 21 million people who have read it! And they have thousands of articles... what would you do with that kind of traffic? A friend of mine hacked their method and was able to use it to get 11,592 targeted new subscribers in 2 weeks on their very first attempt!
Nr 12. Push notifications are one of today's hottest trends in website traffic and conversions, and for good reason. Studies have shown that as many as 40% of people will opt-in for push notifications, which is about TEN TIMES the rate of people who opt-in for emails! That's huge! Not only that, but they're also highly effective at pulling clicks, as well. Some studies have shown CTR at an average of around 40%, with highs of as much as 80%! Again, that's huge!
Nr 13. Would you like to know how to get more money from the exact same number of website visitors you're currently getting? Even if you're website is getting as few as 1-2 visitors a day, this report will show you how to increase your profits using these few handy hacks.
Nr 14. People have now realised that it's not the size of the list which matters, it's the quality. ... and the only way to create a quality list is by launching your own products. Let it be $7 ebooks, $17 info products, $27 video training product or software's... all of these work. My good friend Kevin Fahey has is revealing how he's launched over 20 products in the past 4 years, many of them top sellers. Needless to say he's banked a handsome amount in this time.
Nr 15. Do you ever feel that the man you like or even love, just doesn't see you or desire you in way you want him to? Or... maybe you're able to get a man's attention though not the right kind of attention? Or... maybe you're still single because you wait and wait for men to approach you first? What you may not know is that the way we flirt will either attract the "wrong" man for us or the "right" man.
Nr 16. When it comes to getting sales and leads online, there is ONE thing that 95% of marketers use... it's called a LIST. My friend Jimmy just released a free book that explains WHY a list is important and how YOU can build your own list. It's available right here (and it won't cost you a penny)
Nr 17. If you have tried everything, and still aren't able to get your Ex back, then you need to pay attention.
Nr 18. What if I told you that you could make ANY woman WANT to do ANYTHING for you? Would you think I'm crazy? Well... what If I told you that you could also make her LOVE every minute of it and come back for more?
Nr 19. I have a special free plugin for you today. It's called "Covert Hover Mini"
This plugin will triple your blog traffic by compelling your visitors to share your images on social media. This is some really clever stuff and it works like a charm. After you grab your free plugin, don't  forget to read the free bonus report as it will show exactly how and why this strategy works like crazy.
Nr 20. The days of being able to get away with a basic WP theme and a pic or two are gone, your site needs to look good. Even Google are looking for you to have engaging graphics on your site. But getting good quality graphics made for your site is a pain, AND it will cost you both time and money (if you outsource it). But I have a special free download for you today. A virtual treasure chest of over 21K profit pulling graphics you can start sing today to generate more traffic & sales!
Nr 21. 20 professional full HD background videos. These background videos are perfect for giving your videos that extra kick they need to stand out from the crowd Oh yeah they are in full 1080p HD too, I hope you'll enjoy them.
Nr 22. If you've ever failed to create a WordPress site of your own or typically waste hours & even weeks trying to figure it all out on your own....
Nr 23. No doubt, you've seen all of the video launches lately! There is a reason for it... Video marketing is a GREAT way to make money, and with the recent creation tools making it super accessable for anyone to get started... It's no surprise that more people are making videos. However... there is a missing element to most video marketing products...
Nr 24. For the first time ever... You can get the straight scoop on how someone is selling over $1,000,000/year of t-shirts on Facebook!
Use them  .... and have fun !