Daimler AG plans to spend $1 billion to start production of Mercedes-Benz electric vehicles at its Alabama factory, setting the world's largest luxury-car maker up to battle with battery-car specialist Tesla Inc. on its home turf.
The German automaker will build its fifth battery plant globally and create more than 600 jobs in the region, the company said Thursday in a statement. The Alabama factory will assemble electric sport utility vehicles, taking on Tesla's Model X and making Stuttgart-based Daimler the first European company to assemble plug-in autos in the U.S.
"We're celebrating our 20th anniversary at our production facility in Tuscaloosa, Alabama, and we're taking this as an opportunity to expand the operation and further fuel growth," production chief Markus Schaefer said in a Bloomberg TV interview. "We're very confident for future growth in the U.S. in the long-term. "
While the investment could ease tensions over President Donald Trump's claims that too many German cars were being sold to Americans, the real target is certainly the intensifying rivalry with Tesla. The Palo Alto, California-based carmaker's flagship Model S sedan outsold the Mercedes S-Class and BMW 7-Series last year in the U.S., putting pressure on the brands to defend their image as automotive innovators.
Electric Surge
Daimler's investment shows the carmaker's shift to electric vehicles is taking shape. The German manufacturer is also in talks to expand its Denza joint venture with BYD Co. in China with additional models, Chairman Wang Chuanfu told a group of reporters in the southern Chinese city on Thursday.
Like other automakers, Daimler is preparing for a time when sales of battery-powered vehicles finally take off. U.S. sales are projected to grow fourfold from last year to 643,000 in 2021, about 4 percent of the U.S. auto market, according to estimates by Bloomberg New Energy Finance. The segment is expected to account more than one-third of sales in 2030.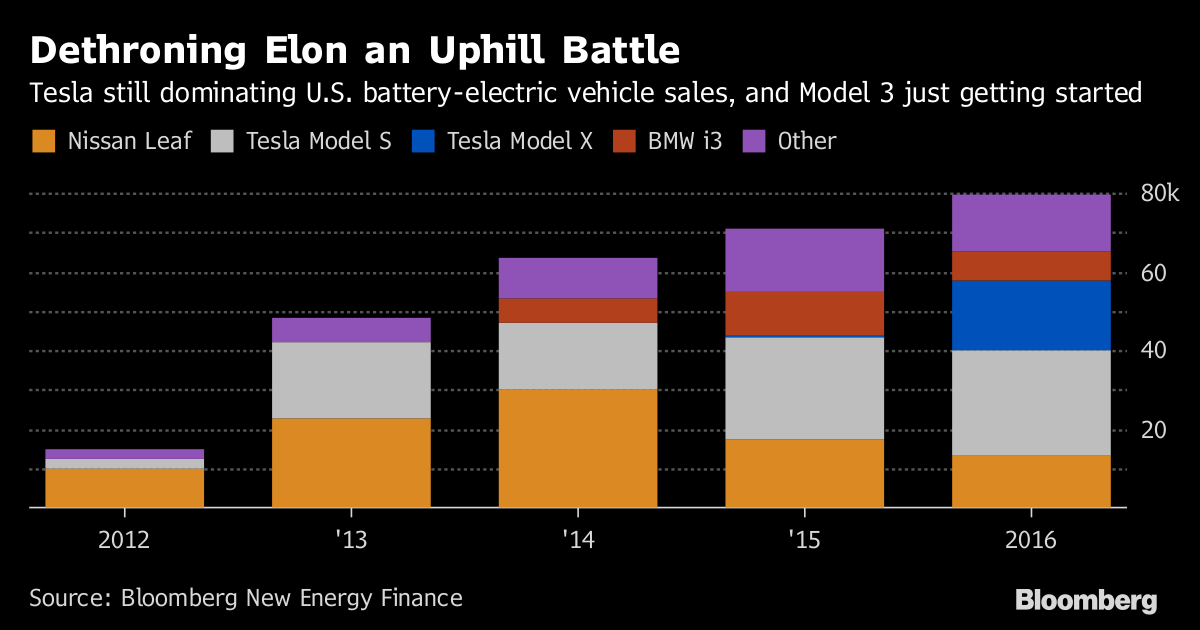 The shift is proving costly. Daimler laid out a plan last week to slash 4 billion euros ($4.8 billion) from spending by 2025 to compensate for weaker margins from electric cars as global automakers accelerate efforts to roll out cleaner vehicles amid tightening emissions rules across the globe. 
As part of a 10 billion-euro green-car rollout, Mercedes unveiled an electric hatchback this month at the Frankfurt auto show. In addition to the new EQ line of battery-powered cars, the manufacturer will add electrified versions across its model range. Daimler's Smart city-car brand will gradually stop offering models with combustion engines as of 2020.
Mercedes, which topped BMW as the top luxury auto brand in the U.S. last year, started assembling vehicles in Alabama 20 years ago. The factory has since emerged as one of the brand's main manufacturing hubs worldwide, with some 70 percent of assembled vehicles slated for export to global markets. About 3,700 employees produce the GLE, GLE Coupe and GLS SUVs at the site, which added the the C-Class sedan for the North American market in 2014.
For more on electric cars, check out the podcast:
More From this publisher : HERE
If you like our content help us with a share… or two …  
Also -  I have some free stuff for you .......
Nr 1. In This FREE Report you can Discover:
Secrets to acquiring the freshest, hottest leads via YouTube In-Stream ads quickly and easily! Best secret tips for the most effective targeting for your ads! Totally legal, but little-known method for literally stealing traffic from your competitors! Get more traffic to your videos and landing pages without spending a fortune! And much more - all within this special FREE report!
Nr 2. Did you know you can Absolutely EXPLODE YOUR EMAIL LIST FOR FREE with UNTOUCHED offline sources?
Nr 3. The #1 secret to becoming an affiliate superstar - Earn your first $100 online – without a dime to invest.
If you're still looking to "make it online – I have just the thing for you. It's a video series that shows how to make your first $100 online – even if you don't have a dime to invest. Yes – nothing.  Free.  Nada. Is this possible? You bet. It's the most powerful system used by those "in the know". Good things don't have to be difficult. And they don't only come to those who wait. Have A Look
Nr 4. Top 10 Email Marketing Mistakes. Which of these mistakes do you make?
Nr 5.  You can learn about : The hottest social networking site that will send an unlimited stampede of traffic to your site - for FREE! How to quickly locate a swarm of hungry buyers using "information portals"! The fast and easy way to use simple images to siphon targeted traffic, on command! Learn how to get the most possible traffic from Instagram, and make sure that traffic converts! And much more ...
Nr 6. It's no secret… Facebook is an incredible place to get tons of free, viral traffic. But… most people are going about it all wrong.  How many of these mistakes are you making? Download the free report to find out.
Nr 7.  Special free report .  It's called "Operation Midas Touch" and you can download it here...
The report features a surefire method for generating at least $1000 per week online,without a website or product of your own!
Nr 8.  Instagram is still one of the hottest ways to get a LOT of traffic fast. All by sharing images. Sounds easy enough, yeah? Well, yes and no. If you want to really start driving a lot of  traffic and making sales using Instagram then you should download this report.
Nr 9.  When it comes to creating a product online there are so many ways to approach it. Wouldn't it be great to just get the meat of it all so you can get started faster? Well, the good news is, today you can download a guide called the Product Creation Formula Quickstart Guide. It's as the title suggests - a Quickstart guide. You'll get a list of action steps to take right away. Download your copy today !
Nr 10. Would you like to finally USE all of that dusty PLR you have sitting around on your harddrive? Or maybe find the resources for the best PLR available - at the best prices? What about how to use that PLR to make you money with just a few minutes of work. Well, you're not going to want to miss this!
  Nr 11. Buzzfeed's top post has more than 21 million views. Think about that for a sec… ONE of their articles has had over 21 million people who have read it! And they have thousands of articles... what would you do with that kind of traffic? A friend of mine hacked their method and was able to use it to get 11,592 targeted new subscribers in 2 weeks on their very first attempt!
Nr 12. Push notifications are one of today's hottest trends in website traffic and conversions, and for good reason. Studies have shown that as many as 40% of people will opt-in for push notifications, which is about TEN TIMES the rate of people who opt-in for emails! That's huge! Not only that, but they're also highly effective at pulling clicks, as well. Some studies have shown CTR at an average of around 40%, with highs of as much as 80%! Again, that's huge!
Nr 13. Would you like to know how to get more money from the exact same number of website visitors you're currently getting? Even if you're website is getting as few as 1-2 visitors a day, this report will show you how to increase your profits using these few handy hacks.
Nr 14. People have now realised that it's not the size of the list which matters, it's the quality. ... and the only way to create a quality list is by launching your own products. Let it be $7 ebooks, $17 info products, $27 video training product or software's... all of these work. My good friend Kevin Fahey has is revealing how he's launched over 20 products in the past 4 years, many of them top sellers. Needless to say he's banked a handsome amount in this time.
Nr 15. Do you ever feel that the man you like or even love, just doesn't see you or desire you in way you want him to? Or... maybe you're able to get a man's attention though not the right kind of attention? Or... maybe you're still single because you wait and wait for men to approach you first? What you may not know is that the way we flirt will either attract the "wrong" man for us or the "right" man.
Nr 16. When it comes to getting sales and leads online, there is ONE thing that 95% of marketers use... it's called a LIST. My friend Jimmy just released a free book that explains WHY a list is important and how YOU can build your own list. It's available right here (and it won't cost you a penny)
Nr 17. If you have tried everything, and still aren't able to get your Ex back, then you need to pay attention.
Nr 18. What if I told you that you could make ANY woman WANT to do ANYTHING for you? Would you think I'm crazy? Well... what If I told you that you could also make her LOVE every minute of it and come back for more?
Nr 19. I have a special free plugin for you today. It's called "Covert Hover Mini"
This plugin will triple your blog traffic by compelling your visitors to share your images on social media. This is some really clever stuff and it works like a charm. After you grab your free plugin, don't  forget to read the free bonus report as it will show exactly how and why this strategy works like crazy.
Nr 20. The days of being able to get away with a basic WP theme and a pic or two are gone, your site needs to look good. Even Google are looking for you to have engaging graphics on your site. But getting good quality graphics made for your site is a pain, AND it will cost you both time and money (if you outsource it). But I have a special free download for you today. A virtual treasure chest of over 21K profit pulling graphics you can start sing today to generate more traffic & sales!
Nr 21. 20 professional full HD background videos. These background videos are perfect for giving your videos that extra kick they need to stand out from the crowd Oh yeah they are in full 1080p HD too, I hope you'll enjoy them.
Nr 22. If you've ever failed to create a WordPress site of your own or typically waste hours & even weeks trying to figure it all out on your own....
Nr 23. No doubt, you've seen all of the video launches lately! There is a reason for it... Video marketing is a GREAT way to make money, and with the recent creation tools making it super accessable for anyone to get started... It's no surprise that more people are making videos. However... there is a missing element to most video marketing products...
Nr 24. For the first time ever... You can get the straight scoop on how someone is selling over $1,000,000/year of t-shirts on Facebook!
Use them  .... and have fun !